Neil Peart is a known Canadian drummer, a member of the rock band Rush.
Biography
Edit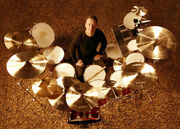 All he wanted was to be a full-time drummer. During adolescence, he became a member of many bands, shifting
from one band to another.
Peart started out as a hard rock drummer. But after some time, he also entered the field of jazz. He even became a friend and pupil of jazz instructor Freddie Gruber. It was Gruber who introduced products of the Drum Workshop to Peart, who later endorsed the company.
Aside from being a drummer, Peart is also a lyricist and an author.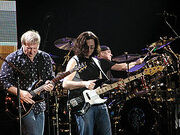 Neil Peart has received numerous awards for his percussion skills. Here are some of his awards and achievements:
Best Rock Drummer - from 1980-1986, 2006, 2008
Hall of Fame - 1983
Best Multi-percussionist - 1983-1986
Best All Around - 1986
There are many other awards Neil Peart received.
He also received awards for his performances like Permanent Waves, Moving Pictures, Exit... Stage Left, Signals, Grace Under Pressure, Test for Echo, Different Stages, R30, Snakes and Arrows, and many many more.
Peart has also received several awards from DRUM! Magazine from 2007-2010.