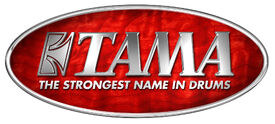 TAMA is a drum company. The drums are manufactured in Japan by Hoshino-Gakki group and are sold around the world. Many different series of drums have been made by TAMA. Including:
Beginner/Professional
Edit
Rhythm Mate
Imperialstar
Silverstar
Superstar Hyper-Drive
Superstar Series
Edit
Starclassic Series
Edit
Starclassic Performer B/B
Starclassic Maple
Starclassic Bubinga
Starclassic Bubinga Omni-Tune
STAR Drum Series
Edit
Discontinued
Edit
Wingstar
Fibrestar
Royalstar
Beatstar
Granstar
Starworks
Rockstar
Artstar
Artstar II
Stagestar
Crestar
Techstar
Starclassic Warlord Exotix Spartan
Along with making trap sets, Hoshino TAMA also makes marching percussion.  They make normal configurations for all snare, tenor, and bass drums used in a marching band, with different shell color options.  In addition to marching percussion, there is also a line of marching brass known as "Tama by Kanstul". 
Original Percussion
Edit
TAMA continues to make the original percussion known by many drummers. There are four different items in this set. The TAMA Gong Bass Drum, The Jingle Ring, Octobans, and TAMA Steel Mini-Tymps.
Community content is available under
CC-BY-SA
unless otherwise noted.