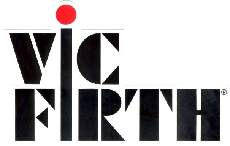 The Vic Firth company was named after its founder who was a percussionist/timpanist of the Boston Symphony Orchestra for 12 years.
Firth, having been an orchestral percussionist for many years already, began designing his own sticks, which gained popularity among his friends and students, and was soon carried out by retailers. Most of his designs soon became the prototypes of the sticks the company now sells, such as the SD1 and SD2.
The Vic Firth company started out as a company manufacturing orchestral drumsticks and mallets in 1963. Because of their sticks' quality, the company acquired many buyers and fame. It wasn't long until they decided to make drum sticks of all shapes and sizes.
Today, the Vic Firth company has about 300 products in its catalog and continues to create drum sticks. They make around 12 million sticks a year.
Here are some of Vic Firth's top-selling sticks:
American Classic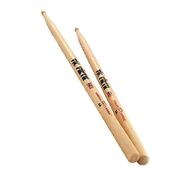 -The American Classic line has bold designs for fuller sound. They are created from select hickory, a dense kind of wood with a little flex for a more pronounced sound. These sticks are also highly durable.
Some sticks of the American Classic line have nylon tips for a greater cymbal sound. Some are even colored red.
Nova Series
-Vic Firth's budget line. These sticks are positively cheap, yet gives a good feel to drummers. These sticks are even recommended by some to beginners and drummers on a tight budget.
Made from hickory, the Nova sticks can come in ordinary wood color, red, and black. And they also have Nova sticks with nylon tips.
Shogun

-Made from the highest quality Shira Kashi white oak from Japan. Although the wood for these drumsticks are from Japan, they are manufactured in the factories in USA.
Since oak is a denser wood, it provides more power to a drummer's playing and gives a full drum sound.
Artists
Here are some famous artists who use Vic Firth sticks:
Adam Young - Owl City
Darrel Robinson - N.E.R.D.
Rick Woolsetnhulme - Lifehouse
Mike Marsh - Dashboard Confessional
Steve Jordan - John Mayer Trio
References
Edit
Community content is available under
CC-BY-SA
unless otherwise noted.