Avedis Zildjian
, or just Zildjian is a Turkish cymbal manufacturing company. Founded in the 17th century,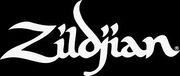 Zildjian makes cymbals, drumsticks, and more. It was ran by Avedis Zildjian I, II, and III. After Avedis Zildjian III died, Robert and Armand Zildjian were in charge. However, Robert split to create the cymbal company
Sabian
. Zildjian has created a large line of cymbals.
Current Cymbal Products
Edit
Sheet Bronze Products
Edit
Cast Iron Products
Edit
FX
Z3
Avedis Zildjian (A Zildjian)
Armand Zildjian
A Custom
K Zildjian
Edit
K Zildjian
K Zildjian Constantinople
K Custom
K Custom Hybrid
Discontinued Cymbal Products
Edit
Sheet Bronze Cymbals
Edit
Amir/Amir II
Impuse
Scimitar/Scimitar Bronze
Edge/Edge Plus
ZBT Pluse
ZXT Titanium
Pitch Black
Cast Bronze Cymbals
Edit
Z Zildjian
Avedis Platinum
Z Custom
References
Edit